Jordan Phemister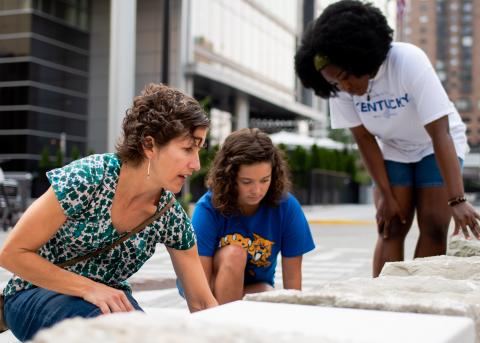 Jordan Phemister, PLA, ASLA
Lecturer
S305-E Agricultural Science Center North  |  859.257.3826  |  jordan.phemister@uky.edu
Jordan Phemister received her MLA from the University of Virginia in 2006 and BA in Environmental Geography from Colgate University in 1999. She worked for O'Shea + Wilson Siteworks in Charlottesville, Virginia for five years before moving into private practice, and joined UK's faculty in 2017.  
Jordan combines her time spent in practice and passion for the profession to engage and inspire future generations of landscape architects. In practice, she worked on a diverse range of residential gardens; K-12, university, and corporate campuses; as well as public parks and urban design. At UK, she focuses on connecting kids with nature and increasing their physical activity through evidence-based design and project opportunities in school landscapes. She is interested in the growing body of research demonstrating the critical connections between the designed and built environment, and human and environmental health. Jordan enjoys working alongside her students, colleagues, and community partners to explore, educate, and demonstrate how landscape architecture can positively engage and shape the communities, public spaces, and ecological systems which sustain us all. 
"Landscape architecture provided me with a way to combine my passion for the environment and conservation with opportunities for creativity. LA has connected me to a diverse range of people – as colleagues, clients, collaborators, and community partners – through an incredible range of project types and scales – from someone's backyard, to urban streetscapes, community parks, and regional plans. As landscape architects, we are charged with analyzing, understanding, advocating for and sustainably designing everything outside of buildings, ideally in ways that enhance and enrich human experience as well as the environment. What an incredible responsibility and opportunity that is, and it is very rewarding to see the energy and excitement that students bring to the discipline here at UK and take out into the world once they graduate."
University Involvement:  
Faculty Advisor to American Society of Landscape Architects Student Chapter 

At-large Member of American Society of Landscape Architects Kentucky State Chapter 

Member of Reynolds Building Committee